Grand Guignol au Smithsonian Institute
Par Graal le 26 mai 2009, 17:36 - Critique de film - Lien permanent
Ben Stiller récidive dans cette suite de « La Nuit au Musée », sobrement traduit par : « La Nuit au Musée 2 ».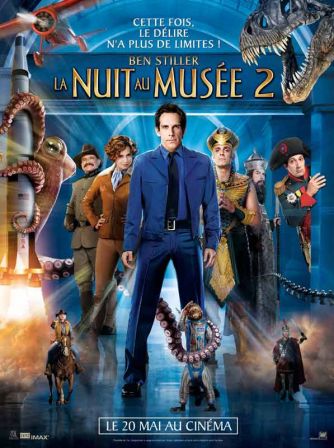 Si la VF n'a pas retenu le sous-titre original : « Battle at the Smithsonian », pour une fois, c'est mérité. Car en effet, ici, la seule vraie bataille est celle de remporter le trophée de la pire suite…
Dans toute bonne suite où la surprise est passée, il faut compenser par plus d'action, de sensationnel. Ici, on nous promettait de revoir Ben Stiller endosser la panoplie du gardien de nuit d'un musée, mais dans le plus grand du monde cette fois : le Smithsonian Institute… Quelle énorme déception !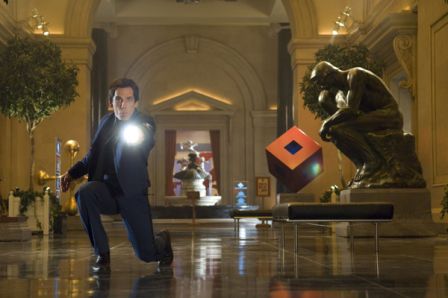 Ben Stiller en pleine action
Rapide petit pitch : deux ans se sont écoulés depuis le précédent film. Larry Daley (Ben Stiller) est devenu le chef d'une entreprise florissante : inventeur à la petite semaine, ses gadgets (fantastique lampe torche qui « brille dans le noir ») remportent un vif succès. Il gagne très bien sa vie mais on sent qu'il n'est pas heureux. Un jour, il retourne à son musée et découvre que ses « compagnons de nuit » vont être transférés aux archives fédérales, dans les sous-sols du Smithsonian, remplacés par un équipement holographique ultramoderne. Un soir, alors qu'il s'apprête à dîner avec son fils, il reçoit un coup de téléphone (sic !) de Jedidiah (Owen Wilson) qui lui demande de l'aide. Ni une ni deux, il embarque pour Washington, à la rescousse de ses amis !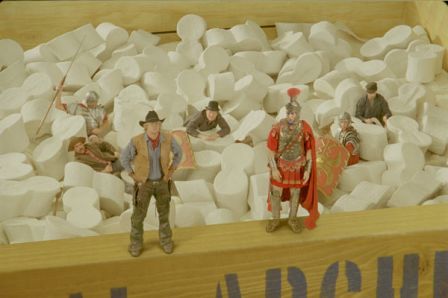 Owen Wilson en Jedidiah et Steve Coogan en Octave
Et c'est à ça que le scénario s'arrête, à une morale insipide à deux sous : « le bonheur c'est l'amour » ! Vivre l'instant présent et faire la fête avec ses amis. Quelle révélation !
Les personnages secondaires interprétés avec détermination et les effets spéciaux remarquables ne sont là que pour valoriser le personnage de Larry Daley et l'amener à comprendre que rien ne vaut d'être entouré de vrais amis. Mais Ben Stiller ne semble pas y croire une seule seconde tellement il n'est pas dans son rôle. Son ennui transparaît tellement à l'écran, que toute la bonne volonté d'Alain Chabat (exquis en Napoléon) et la détermination de son acolyte féminin joué par une callipyge Amy Adams rend cette maturation complètement invraisemblable.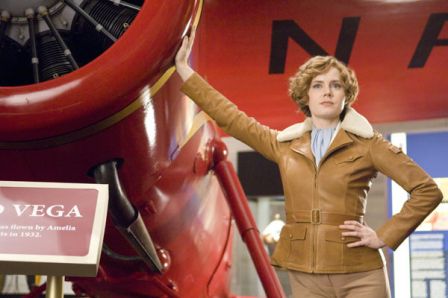 Amy Adams interprète l'aviatrice américaine Amelia Earhart
Suprême déception : l'inexploitation totale de ce monumental complexe de musées répartis sur plusieurs kilomètres. Ce qui aurait pu devenir un fantastique « parc d'attraction » est réduit à sa plus simple expression : un passage éclair au « stand » de l'air et de l'espace pour célébrer l'Amérique conquérante.
Car c'est aussi ça, « La Nuit au Musée 2 » : un hommage vibrant à des Etats-Unis qui font fi des cultures et du passé du reste du monde. Qui s'inventent une mythologie et une histoire profondément ancrée dans le présent et fonçant vers l'avenir tête baissée.
Note : *, pour Alain Chabat et la sculpturale rouquine Amy Adams.
J'ajouterai quand même volontiers une étoile subsidiaire juste pour la superbe musique, toujours composée par Alan Silvestri, qui a admirablement su réécrire une partition originale tout en gardant l'excellent thème « Night at the Museum » – que l'on retrouve avec plaisir – et préservant l'ambiance et l'atmosphère du premier opus.